MEDICAL NON-EMERGENCY TRANSPORTATION (NET)
The Medical Non-Emergency Transportation Program (NET) can assist individuals that are receiving Ohio Medicaid with transportation to and from Medicaid covered appointments. Transportation assistance may be in the form of bus passes for the Marion Area Transit, fuel cards for mileage reimbursement, or contracted vehicles through MCAT – in order of the least costly method depending on the individual's circumstances.
Requests for NET transportation must be submitted 10 days before transportation is needed. To see if you qualify, please contact Marion County Job & Services at (740) 387-8560 and choose option 3 (best and fastest). Also, you may send email to Marion-JFS-NET@JFS.Ohio.Gov.  
Transportation services are also available to individuals covered by Medicaid through all of Ohio's Medicaid Managed Care Plans. For more information on Ohio's Medicaid Managed Care Plans click here.  Also, click here for provider telephone numbers, or contact the Ohio Medicaid Hotline for consumers (1-800-324-8680) or ohiomh.com.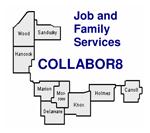 Carroll CountyPO Box 219Carrollton, OH 44615PH: 844-640-6446FAX: 330-627-3904 Delaware County140 N. Sandusky, 2nd FloorDelaware, OH 43015PH: 844-640-6446FAX: 740-833-2302 Hancock CountyPO Box 270Findlay, OH 45839PH: 844-640-6446FAX: 419-422-1081 Holmes CountyPO Box 72Millersburg, OH 44654PH: 844-640-6446FAX: 330-674-0770 Knox County117 E. High St., 4th FloorMount Vernon, OH 43050PH: 844-640-6446FAX: 740-392-8882 Marion County363 W. Fairground St.Marion, OH 43302PH: 844-640-6446FAX: 740-387-2175 Morrow County
619 W. Marion Rd.Mt. Gilead, OH 43338PH: 844-640-6446FAX: 419-947-9115 Sandusky County2511 Countryside Dr.Fremont, OH 43420PH: 844-640-6446FAX: 419-332-2156 Wood CountyPO Box 679Bowling Green, OH 43402PH: 844-640-6446FAX: 419-353-6091